"Machines will do what human beings are incapable of doing. Machines will partner and cooperate with humans, rather than become mankind's biggest enemy."
Jack Ma, co-founder, Alibaba Group
"Automation is going to cause unemployment, and we need to prepare for it."
Mark Cuban, U.S. entrepreneur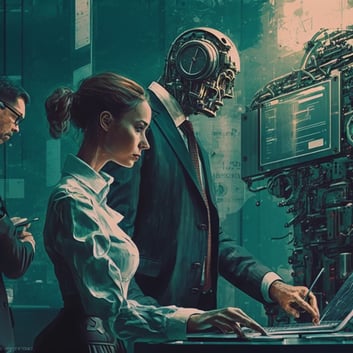 The use of technology to replace and enhance human labor has always provoked competing narratives. As the above quotes suggest, some of the world's most tech-savvy businessmen have very different views on the potential impact of artificial intelligence, machine learning and business automation.
As we noted in a recent post, these technologies are no longer in the experimental phase. Incredibly accessible and user-friendly platforms are putting more powerful AI tools in the hands of average users every day. For example, a simple prompt for "the future of IT automation" in the BlueWillow AI image generator tool produced the illustration accompanying this post.
Although the image is highly conceptualized, it provides an interesting representation of the automation debate. On the one hand, it suggests that automation and AI are simply tools that humans will use to increase efficiency and productivity. On the other, it evokes the widespread fear that automation will take jobs from humans.
The Price of Progress
There is plenty of historical perspective for such debates, notably from the Luddite movement in 19th century Britain. When the introduction of mechanized looms and knitting frames threatened their livelihood, textile workers organized secret groups that staged protests, raided factories and smashed new equipment. Nevertheless, textile mechanization had far-reaching social and economic benefits. It radically reduced the cost and time required to make garments, making quality, affordable clothing available across all economic classes. It ultimately created millions of new jobs through the growth of the garment and cotton industries.
Academic researchers say this is a good example of the enhancement and substitution effects of AI and automation.
The enhancement effect refers to improved productivity, efficiency and safety from the automation of time-consuming and often dangerous manual tasks. Additionally, the ability to produce more goods faster and more economically can boost the overall standard of living. AI is expected to contribute $15.7 trillion to the global economy by the end of the decade, according to a PwC study.
The substitution effect refers to the displacement of workers. To date that has been most pronounced in the manufacturing industry. An Oxford Economics study suggests that automation and robotics will likely displace 20 million manufacturing jobs by 2030. The report also notes that while automation may provide broad economic benefits, it will likely have more pronounced negative effects in rural areas that depend heavily on traditional manufacturing jobs.
'A Condition of Survival'
All industry sectors will be impacted by increased automation. An IDC study predicts that by 2026, 85 percent of enterprise organizations will combine human expertise with AI, machine learning, natural language processing and pattern recognition to "augment foresight across the organization." The firm expects these technologies will increase employee productivity by 25 percent.
Gartner analysts expect more organizations to pursue a hyperautomation strategy designed to automate as many workflows as possible. In a recent survey, 40 percent of organizations indicated they have thousands of AI models deployed across multiple business units.
"Hyperautomation has shifted from an option to a condition of survival," said Fabrizio Biscotti, research vice president at Gartner.
To address the potential for job loss, many organizations are implementing education programs to help workers retrain and transition to new jobs.
"We need a global workforce equipped with digital skills to develop sustainable and secure businesses, and more equitable societies," said Guy Diedrich, SVP and Chief Innovation Officer, Cisco. "Building a local pool of next-generation talent is critical to long-term social inclusion and economic resilience."
One size does not fit all, particularly when it comes to the future of automation as we know it. And odds are you've already automated more of your environment than you realize. Let's sit down together to discuss how you can build upon successes, learn from failures, and maximize the benefits of IT automation.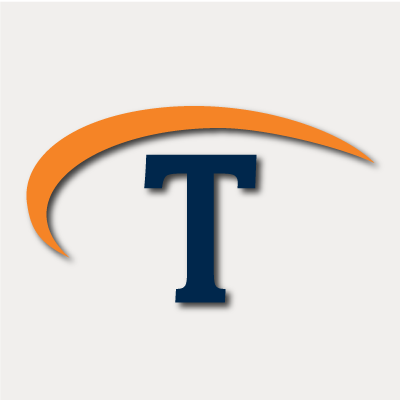 Technologent is a women-owned, WBENC-certified and global provider of edge-to-edge Information Technology solutions and services for Fortune 1000 companies. With our internationally recognized technical and sales team and well-established partnerships between the most cutting-edge technology brands, Technologent powers your business through a combination of Hybrid Infrastructure, Automation, Security and Data Management: foundational IT pillars for your business. Together with Service Provider Solutions, Financial Services, Professional Services and our people, we're paving the way for your operations with advanced solutions that aren't just reactive, but forward-thinking and future-proof.