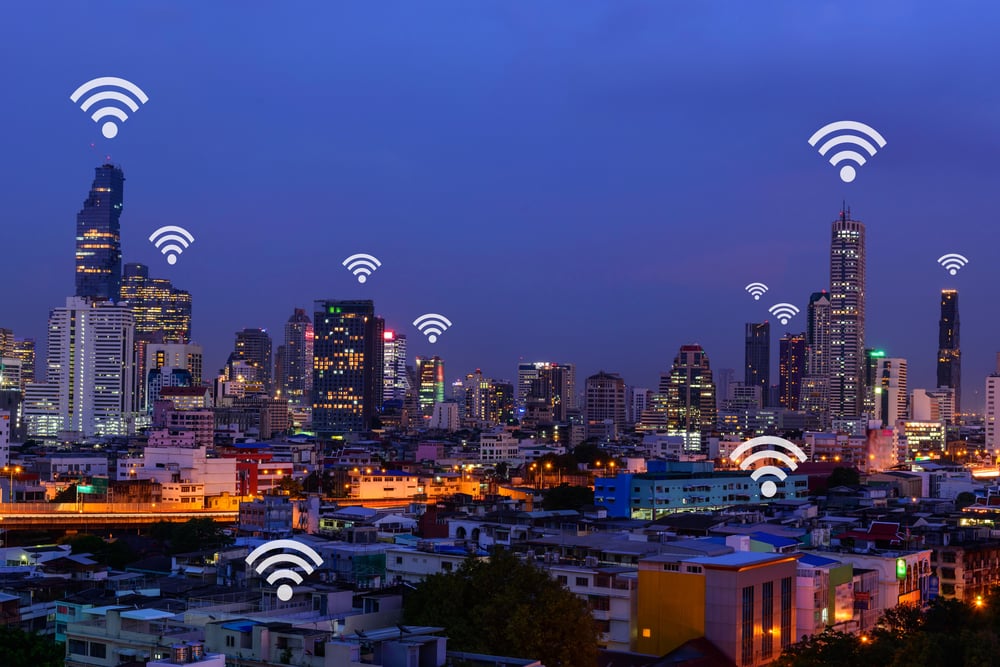 In the previous post, we discussed Wi-Fi Protected Access 3 (WPA3), the new Wi-Fi security protocol, and how it overcomes the weaknesses of WPA2 to better secure wireless networks and protect sensitive data. WPA3 networks replace legacy protocols with modern security controls, including advanced encryption and stronger password-based authentication.
Stronger Wi-Fi security has become critical as the number of mobile devices continues to explode and Internet of Things (IoT) adoption and use cases expand. In addition, organizations are struggling to meet the demand for wireless connectivity and get a handle on traffic congestion, high power consumption and the limited range of wireless LANs. The IEEE is responding to these challenges with two new Wi-Fi standards.
802.11ah, or HaLow, is the first Wi-Fi standard designed for the IoT. Because HaLow operates in a frequency spectrum below 1GHz where power requirements are low, device power consumption can be reduced by more than 90 percent. The lower frequency also makes it possible to deliver nearly twice the range of legacy standards that operate in the 2.4GHz and 5GHz spectrum. In addition, HaLow can penetrate walls and other barriers while retaining a strong signal to enable non-line-of-sight operation. HaLow also supports high-density environments by allowing thousands of devices to connect to one access point at the same time.
802.11ax, or High-Efficiency Wireless (HEW), is the next-generation Wi-Fi standard that will supersede 802.11ac. Like each new generation, it offers advancements in speed, throughput and the user experience. More significantly, 802.11ax has been developed to support the way organizations use Wi-Fi today. Wi-Fi may have been a convenience technology in the past, but now has become as mission-critical as the wired network.
In addition to being four to 10 times faster than current standards, 802.11ax offers a higher number of wider channels to significantly boost throughput and capacity. With frequency division multiplexing, up to 18 clients can send data at the same time without conflict. To preserve the battery life of IoT devices that don't constantly transmit data, 802.11ax uses a "target wake time" feature to allow the device to go into sleep mode when not in use.
To make 802.11 standards less technical-sounding and easier to identify and understand, the Wi-Fi Alliance has created a new, generational naming system. Under this scheme, "Wi-Fi 6" designates devices that support the upcoming 802.11ax technology, and "Wi-Fi 5" identifies the 802.11ac devices that are available today. "Wi-Fi 4" refers to earlier generation 802.11n technology.
Although the IEEE still uses 802.11 names, the new naming conventions can be used by hardware and software vendors and service providers to identify Wi-Fi technology supported by a device, the type of wireless connection, and Wi-Fi network capabilities. This terminology can also be incorporated into user interfaces so that users have real-time visibility into the generation of wireless environment, which could change as users move between Wi-Fi networks.
The new security protocol is impressive, the new Wi-Fi standards deliver major enhancements to the user experience, and the new naming scheme simplifies things for both vendors and users. However, incorporating these new tools in a way that supports mobile workers, collaboration and the IoT is still a complex undertaking. Let Technologent help you evaluate these new standards and architect a robust and secure wireless network that can keep up with current and future Wi-Fi demands.