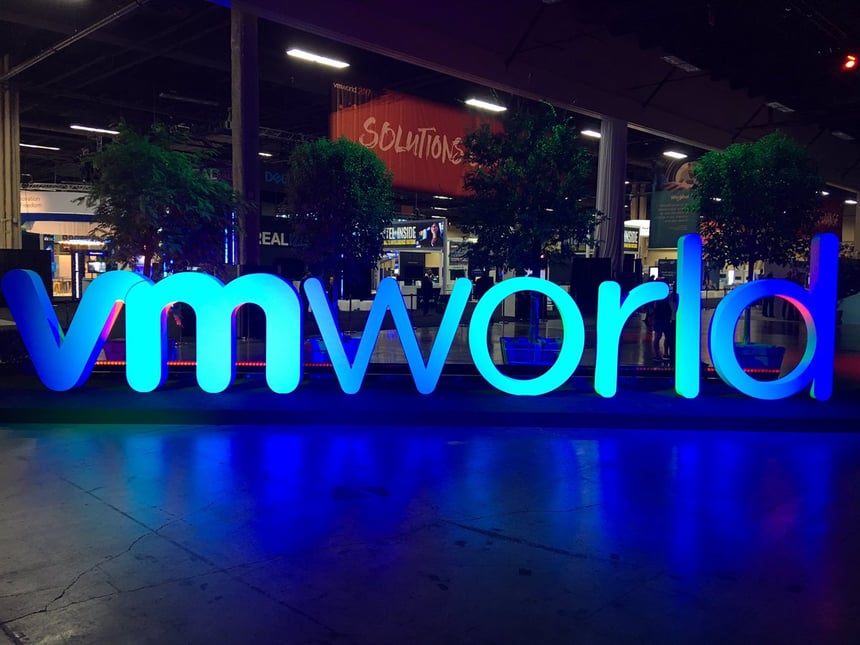 In a previous post, we discussed some of the major announcements to come out of VMworld 2017 in Las Vegas. As expected, most of the new products and services introduced at the event involved VMware solutions, such as VMware Integrated OpenStack, vRealize Network Insight, vSphere, vSAN and Workspace ONE. However, Dell EMC also unveiled a number of solutions developed specifically for VMware environments. The announcements reflect new levels of cross-portfolio integration across hyper-converged infrastructure, hybrid cloud, data protection, flash-storage and other areas to simplify and accelerate IT service delivery.
Data Protection for VMware Cloud on AWS
On the heels of the announcement about initial availability of VMware Cloud on Amazon Web Services (AWS), VMware and Dell EMC announced a partnership that would bring Dell EMC data protection to the on-demand service. Dell EMC's Data Domain and Data Protection Suite for Applications solutions will provide backup and recovery for workloads running in VMware Cloud on AWS. Organizations will be able to add these integrated data protection capabilities with a few clicks when ordering new services.
Dell EMC Data Protection for VMware Environments
New features, automation and native integration with vSphere simplify administration, improve transparency, and enable the automation of data protection and governance in the software-defined data center (SDDC). Backup and recovery operations are streamlined, and scaling is simpler and more cost-effective.
The new release of Data Protection Suite for Applications helps organizations protect virtualized mission-critical databases that are constantly changing. A new data path between the VMware hypervisor and Dell EMC Data Domain delivers backups that are up to five times faster than traditional methods. Data protection processes are automated, and application and database owners can access self-service data protection features while maintaining compliance with governance.
VxRail Appliances
Powered by VMware vSAN and jointly engineered with VMware, Dell EMC VxRail Appliances now offer improved scalability with new batch multi-node scaling. Management is simplified with support for REST-based APIs that enable lifecycle management software to be programmatically delivered to an entire VxRail cluster. VxRail Appliances will also include vSAN Encryption, the first hyper-converged infrastructure solution with data-at-rest encryption built into vSAN 6.6.
Dell EMC VxRack SDDC
Dell EMC VxRack SDDC is now powered by the latest VMware technologies, including VMware Cloud Foundation. This makes VxRack SDDC 80 percent more efficient at scale and simplifies automation and lifecycle management. Forty new Dell EMC PowerEdge-based configurations, including expanded CPU and all-flash storage, deliver improved flexibility and performance.
Dell EMC Enterprise Hybrid Cloud and Native Hybrid Cloud
These two platforms simplify the journey to a hybrid cloud model, reduce risk, and accelerate cloud adoption with full lifecycle management and one-contact support. Enterprise Hybrid Cloud offers increased availability and scalability for up to four sites with multisite support for VxRail-based deployments.
Native Hybrid Cloud is an on-premises, turnkey Pivotal Cloud Foundry platform with developer-ready infrastructure for cloud-native applications. It now offers high-availability deployment options on VxRail. The Workbench platform provides developers and operators with a set of tools for diagnosing connectivity issues, creating policies, and allowing developers to securely shift applications to multiple locations.
VMware Ready Systems from Dell EMC
Through close collaboration with VMware and VMware Validated Designs, these systems provide a standard approach for building and deploying hybrid clouds on hyper-converged infrastructure. The systems will be pre-tested to reduce risk and total cost of ownership.
Technologent is a Dell EMC Partner and VMware Partner and Premier Solution Provider. Let us help you get up to speed on the latest innovations from both companies so you can make informed decisions about incorporating them into your IT strategy.