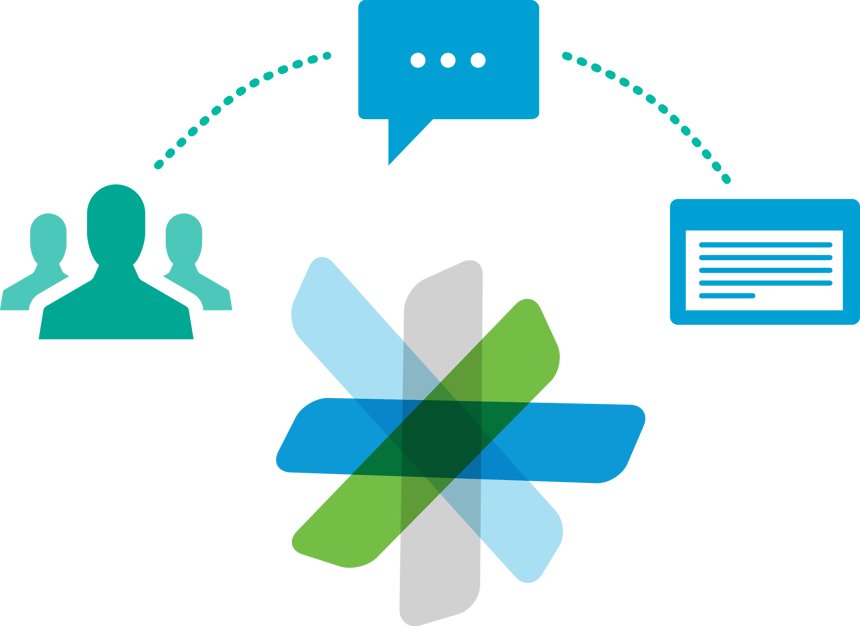 Email is still one of the primary communication platforms in the workplace, but it has its limitations. Although you can send and respond to emails quickly, email can't replicate a live conversation. Many teams are turning to collaboration tools to stay connected with coworkers, regardless of location. Collaboration tools enable real-time interactions that drive faster, more informed decision-making, spark innovation, and accelerate the pace of business.
You might say, "We're already doing that. We text and instant message back and forth all the time." But chat is only one component of collaboration. Chat enables real-time interaction, but big decisions are rarely made via text or instant message. You still need meetings, both in-person and virtual. You still need actual conversations, whether by phone or video. These and other communication capabilities need to be integrated on a single platform to maximize the value of collaboration.
Evolving from a text messaging application, Cisco Spark has become a fully integrated, cloud-based collaboration platform that supports one-to-one and group communication via chat, phone and conferencing.
Users can hold chat sessions, place and receive calls, use phone features such as call forwarding and voicemail, schedule and participate in video meetings, share files and screens, search for users, and receive alerts about new messages within the Spark platform. Records of these discussions are stored in the cloud with end-to-end encryption to keep all files and messages secure. All of this works seamlessly across any network and device.
Earlier this year, Cisco introduced Spark Board, an all-in-one meeting solution designed to eliminate the time wasted setting up meeting technology.
The main culprit of many of these problems is outdated hardware, tangled wires, remote controls and limited functionality. Using ultrasound wireless pairing technology – no Bluetooth, special Wi-Fi or network connection required – Spark Board recognizes and greets users and creates a wireless network of workspaces. The network is managed from any desktop or mobile device, and workspaces can be accessed anywhere and shared with one click.
Spark Board also includes an interactive digital whiteboard that stimulates ideas and innovation.
Traditional whiteboards could only be shared by snapping and sharing photos, which can't be edited. The Cisco Spark Board allows all users to participate and edit work through the Spark app from any device. All work is saved in a shared space so users can continue to edit or take a break and pick up where they left off. Users can have a simultaneous video conference during the whiteboard session, using an advanced conferencing device with theater-quality video and audio.
Cisco also introduced Spark Meetings, which integrates the work done before, during and after the meeting to create one cohesive workflow.
After all, the best ideas don't always happen during the meeting. Spark Meetings incorporates popular WebEx meeting functionality to simplify meeting preparation, execution and follow-up. When you schedule a meeting in the Spark app, you can create the agenda, involve the appropriate people, share content, and chat with participants, all within a dedicated team space. You may find that a meeting isn't necessary.
At the very least, meetings are shorter and more productive. Launch a meeting with a single touch. Capture and save all meeting discussions and content in your team space, where post-meeting comments, notes and action items can be added for continued collaboration.
Email isn't going anywhere, but new collaboration tools are improving the quality and speed of communication to deliver better, faster outcomes. Cisco Spark integrates chat, phone and videoconferencing in a single platform with features that improve productivity and facilitate stronger connections between employees.