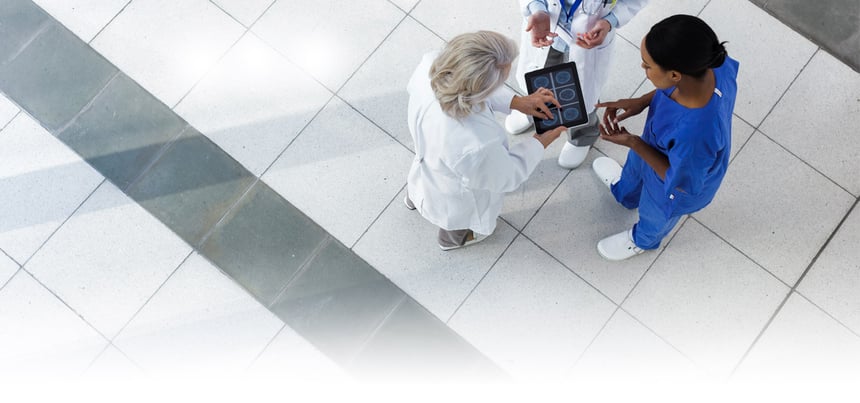 New reports are pointing to an alarming fact that many health care organizations are overwhelmed and underprepared to deal with the cyberthreats that accompany going digital.
While the Health Insurance Portability and Accountability Act (HIPAA) has been an undeniable success for the industry thus far, more secure healthcare IT solutions will be required moving forward to counteract the rise in digital attacks.
Lowdown on the Healthcare Industry
A large majority of patients are now able to view their health records online, and even have face-to-face meetings with doctors via a webcam. While these innovations are being heralded as the future of health care, the increased web presence is leaving many organizations vulnerable.
"90% of all health care organizations have been victims of cybercrime."
Recent research by the Ponemon Institute found that 90 percent of all healthcare organizations have played victim to a data breach in the past two years, and roughly one out of every two companies have suffered five or more instances in that same period of time. The sum of these data breaches have been estimated to cost the sector $6.2 billion, according to the Ponemon Institute.
This breaks down to an average cost of $2.2 million per data breach for health care institutions, nearly double what a business in another industry would pay.
Over 112 million personal health care records were hacked in 2015 alone, Forbes reported. It's clear this issue is only gaining traction, rather than being toned down. New malware and ransomware scripts are being created every month, and some security solutions just can't keep up with the high pace of innovation. This is leaving many companies that believe their IT infrastructure is protected to actually be wholly vulnerable.
Protecting Health Records
Health care organizations simply brushing off these data breaches better have deep pockets. The Ponemon Institute found that while the average leaked record cost $158, this number skyrockets to $355 per record for those in the medical industry. Stopping these cyberattacks from occurring can save a company millions of dollars, while giving consumers the peace of mind that their information is protected as well.
Health care organizations are going digital, but not without vulnerability.
Security solutions should be mandatory among these institutes, yet increasing ingenuity among cybercriminals is calling for sturdier IT solutions to be developed. IBM QRadar, for example, doesn't simply protect against known malware and ransomware, but detects network anomalies, proactively seeks out system vulnerabilities and provides the forensic insight necessary to find out how a hacker got into a system. All of these applications provide visibility in a fight where viruses can be discretely hidden and are often very difficult to find.
The QRadar family runs off of seven different components that all combine to create one of the most modern and fool-proof security solutions to date:
Incident forensics: Allows IT professionals to track failed and successful hacking attempts to better understand where vulnerabilities are located.
Log manager: Collect, store and analyze large swaths of cybersecurity data.
QFlow collector: Allows ultimate visibility into network security in tandem with security information and event management application.
Risk manager: Constantly monitors infrastructure for any abnormalities in firewall or network connections.
SIEM: Manage thousands of endpoints simultaneously and easily log information about them.
VFlow collector: Provides Layer-7 application visibility into network traffic.
Vulnerability manager: Proactive protection from potential hacking attempts.
Part of the issue the health care industry is facing is that malware and viruses are evolving too quickly for IT professionals to defend against them—they're simply difficult to see in real time.
This is why QRadar is so much more effective than most security systems, as it provides visibility into network performance, rather than just simply defending against attacks that are already commonplace.
Organizations looking to avoid paying out millions in fines and lawsuits would be wise to upgrade their IT infrastructure today.